Shut down a Virtual Machine instance - VMWare Fusion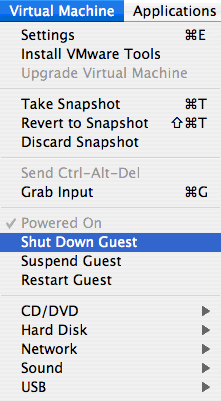 The other day I had a Windows XP virtual machine instance running on my Mac. When I came back later the OS had decided to restart automatically for windows updates but had frozen at the shutdown screen. I tried closing the window, sending CTRL-ALT-DEL, and "Shut Down guest". Everything. Yet each time VMWare Fusion would ask if I really wanted to power off, and despite me saying yes..it would do nothing and the instance was still frozen.
The trick is to go to the "Virtual Machine" menu option, and then press and hold the "alt" key, and you can then select "Power off" which is equivalent to unplugging the computer, rather than just hitting the power button a few times to no avail. It shouldn't be that hard, and how do they expect users to discover those hidden options? I am also nominating this for a bad UI!
Comments
comments powered by

Disqus